My bonus daughter just had a little girl and since it's a snow day today, I thought I would make her a little gift. I wanted to decorate a frame, but I didn't have one that I liked and it's too cold to spray paint anything, so I started digging around trying to find something to make into a frame....found this CD!! Perfect!
We have been calling Ava, the Little Princess, so I went searching through my scrapbook stash and found this paper...perfect!
I used a pencil to trace the cd. Normally I would trace on the back, but I wanted the words 'Little Princess' in a certain spot, so I traced on the front. Cut the paper a little bigger than the circle you traced...I will show you how to get rid of the line you just traced.
I used the biggest punch I had to cut out the photo. I used a circle to coordinate with the circle of the cd. If you don't have a punch, use a drinking glass and trace a circle and cut with scissors. :-)
I used permanent adhesive dots that I had in my scrapbook stash to adhere the paper to the cd.
Here's where you will get rid of the line your drew. Use a file/emery board, with a downward motion, pushing against the cd's edge....the paper will be 'trimmed' right on the edge and the line you drew will disappear.
Perfectly trimmed, no scissors or knife needed :-)
I wanted to add some charms to the bottom of my 'frame' and I found these in my 'stash'...cute!!
I used my handy dandy Cropodile to punch holes into the cd, where I wanted the charms to hang from. If you don't have this tool, you might be able to use a nail and hammer or a drill.
Next, I used scrapbook adhesive again to attach the photo...but the edges were 'raw', so I found some buttons to cover them up and create a 'frame'. I laid them out first to see how I wanted them to go.
I used Aleene's Jewel-It glue...just use what you have...something permanent and clear.
I added a second row of buttons so that all the edges of the photo were covered...then I added the charms.
Finally, I added ribbon to hand the frame and ribbon by the charms to add interest.
TADA!!!
So cute! She's going to love it!
Too bad I don't have enough supplies to make one for me!
And it all started from a cd that would have gone in the trash!! I guess this is a trash to treasure project!!!
Cost of supplies - 0 (I had everything in my 'stash')
Making something so cute from a recycled item = Pricele$$
I party with these ladies each week...go check out their blogs!!! Party on!!!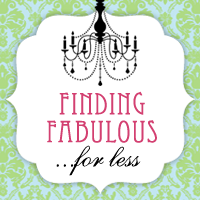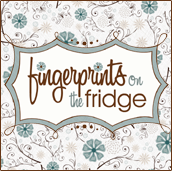 >